OUR MISSION
Dedicated to improving evidence-based decision making through the design and implementation of expert, nonpartisan, research-based evaluation and assessment services.
ABOUT
CREA was founded in 2004 to serve the research, evaluation, and assessment needs of the UNLV College of Education. Since that time, we have expanded to include successful partnerships with local Southern Nevada organizations, state and national agencies in and outside of education, and higher education institutions. With a proven track record in the planning and implementation of high-quality research, evaluation, assessment, and data-analytic projects, we design and conduct rigorous fieldwork to improve understanding of programs and practices that contribute to the development of educators, students, and other partners, customizing projects to fulfill each client's needs.
Who you'll be working with
Bradley D. Marianno, Ph.D.
Faculty Director
Dr. Marianno is an Associate Professor of educational policy and leadership and Faculty Director of the UNLV Center for Research, Evaluation, and Assessment (CREA). Marianno's research focuses on the consequences of education policy change for educational governance and student outcomes with a substantive focus on local, state, and federal teacher policy. His work has appeared in several policy journals including Economics of Education Review, Policy Studies Journal, Educational Policy, and AERA Open. He has provided expert opinion to media outlets like Education Week, The74, NPR, and Time. He graduated with his Ph.D. in urban education policy from the University of Southern California (USC). He also holds master's degrees in sociology and economics from Brigham Young University and USC, respectively.


Mark Spinrad, Ph.D.
Managing Director
Dr. Spinrad is the managing director of the UNLV Center for Research, Evaluation, and Assessment (CREA). Since earning his Ph.D. in higher education from UNLV, Mark joins CREA with research interests in education policy, faculty labor, and organizational culture, as well as qualitative methodologies. Priorly, he taught qualitative and introductory research methods, as well as institutional assessment. He also holds a master's degree in English Composition with an emphasis in developmental literacy and has taught all levels of undergraduate literacy courses.


Wilson Hatcher, M.Ed.
Research Associate
Wilson has called Las Vegas home for over 30 years. He holds a bachelor's degree in legal studies, a master's in higher education, and is working on a Ph.D. in educational psychology. His research interests include quantitative analysis of large datasets. He spent his early career teaching English language and standardized test prep in Japan and Thailand. He served in advising, recruitment, and retention roles at both the College of Southern Nevada and UNLV. He is happy to join the team at the Center for Research, Evaluation, and Assessment. Off campus, you can usually find him playing with his cats, Kimchi and Shoyu.


David Wade
Graduate Assistant
Anel Rojas
Graduate Assistant
Gillian Bowden
Graduate Assistant
OUR SERVICES
We are a major academic center that provides expert, nonpartisan program and policy evaluation and assessment services for decision-makers in national, state, and local organizations. We also provide expert consultation on qualitative and quantitative research design for researchers here in Nevada and around the world.
ANALYSIS & EVALUATION
We offer evaluation design and planning services within several sectors and focus areas. These services are customized to each project that CREA undertakes to provide the most extensive and effective research design.
DATA SERVICES
Extensive data services for research and evaluation are provided by a team that specializes in data collection and analysis. Services include data cleaning, analysis, and validation that can be applied to several research and evaluation projects.
DESIGN & PLANNING
We can assist with data collection and tool design. Experienced researchers can create custom data collection tools and provide on-the-ground, local data collection tailored to meet the needs of your project.
COMMUNICATION
We provide detailed communication services to assist with data and findings reports to meet the needs of all audiences. These services include report writing, management, and data visualization tools.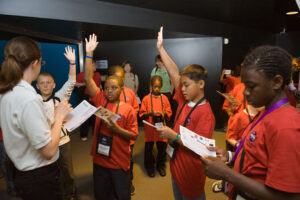 The Minority University Research and Education Project (MUREP)
CREA provides evaluation services for the National Aeronautics and Space Administration-funded research project, Enhancing IDEAS at a Minority- and Hispanic-Serving Institution Through Research and Education for Undeserved Students in Partnership with NASA. In collaboration with scholars from UNLV, the University of Florida, and the NASA Johnson Space Center, the research project endeavors to develop and implement STEM curricula that increases diversity, equity, inclusion, accessibility, and academic success.
HSI-Hubs: Cultivating Culturally Relevant and Responsive STEM Environments
CREA provides evaluation services for the National Science Foundation-funded research project, HSI-Hubs: Cultivating Culturally Relevant and Responsive STEM Environments. In collaboration with scholars from the UNLV Colleges of Education, Engineering, and Sciences, the project endeavors to develop a Resource Hub by and for Hispanic Serving Institutions to support student success.
Futuro Project: Teachers Transforming Nevada's Children and Families
CREA provides evaluation services for the U.S. Department of Education-funded Futuro Project. In collaboration with scholars from Nevada State College, this research project efforts to provide evidence-based recommendations for teaching foundational reading skills, including increasing understanding of early childhood classrooms and teaching practices and improving the school readiness of EL children.
An Evaluation of Nevada's Pupil-Centered Funding Plan
In conjunction with the shift to the new pupil-centered funding formula, the Nevada legislature approved general fund appropriations for an external evaluation to determine the impact of transferring certain state K-12 categorical programs (i.e., Zoom, Victory, and SB 178) into the PCFP and to measure the effect these transfers had on schools and students that the K-12 categorical programs previously targeted. In this report, CREA presents the results of our evaluation of the impact of the Nevada Pupil-Centered Funding Plan.
Download PDF
CCSD Reading Program Evaluation: ThinkCERCA
CREA provided evaluation of the implementation, outputs, and outcomes of CCSD's core language and literacy development program for 6-8 grade students during the 2022 – 23 school year.
Download PDF
CCSD Reading Program Evaluation: 95 Phonics Core
CREA provided evaluation of the implementation, outputs, and outcomes of CCSD's core language and literacy development program for K-3 students during the 2022 – 23 school year
Download PDF